Login


Clicking "Accept Invitation" will automatically take you to the admin portal.

OR
Add Account

Click the blue "+ Add Account" button and fill out the account information:


Enter your OneCloud domain name in the "Reference" field exactly as it appears in the OneCloud portal (Not the description)

Description: TelWare Corporation

Domain: telware

Order Subscriptions

Select the desired products for this account (can be modified later)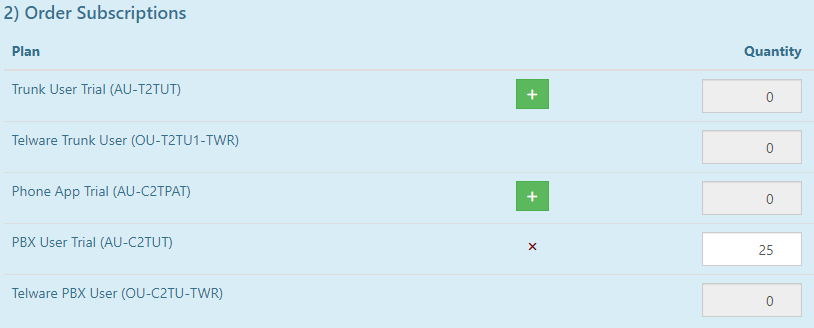 Here we've selected the PBX User Trial license.

Invite Account Owner

Input the email address for the account owner, this will allow the recipient to log into this portal (Optional)

When you're finished, click the blue "Add" button at the bottom right.

Customer Portal

Once you've created the account, click the "Customer Portal" button:


And navigate to the "Getting Started" Page. You will be met with the Teams Link Wizard.

Prerequisites
Take note of the prerequisites listed on this page as all conditions must be met to continue:


Click the "Check my Tenant" button and sign in with a global admin account for the tenant that will be linked to OneCloud.


Once the check finishes, you should see green checkmarks on each requirement:


If you see any red, take note of the failed prerequisite and take proper action to resolve and click "Check My Tenant" again.

Click "Next"


PBX/Trunk

This is where we will connect to the OneCloud domain. In the "PBX" tab, configure the PBX as follows: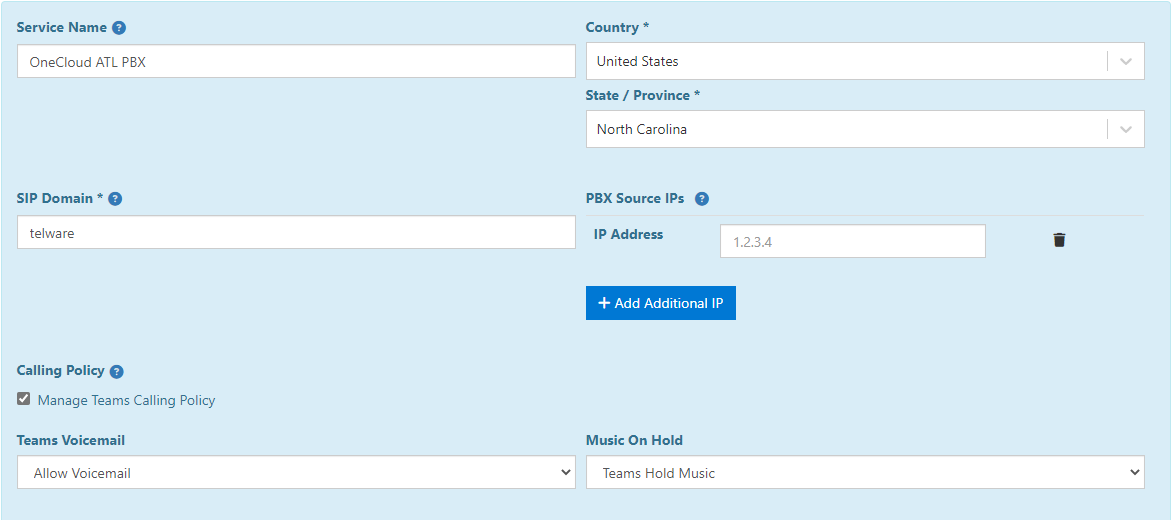 Enter the OneCloud domain name in the "SIP Domain" field as shown above.


Manage Teams Calling Policy:

Enabling this option will automatically add any users configured in the connector to a policy that sets the Voicemail and Music on Hold parameters as configured on this screen. Leave unchecked to manage this manually via the Teams admin portal

Leave these settings alone:


Click "Save" then "Next"

Teams

You will then be prompted to sync with the Teams environment. Click the Sync button and wait approximately 15-20 minutes for the setup to complete.


Once sync is complete you will see:


At this stage your Teams environment has been configured for Direct Routing with OneCloud, all that is left is to configure the users themselves.
Click "Next" to begin configuring Teams users for Direct Routing through OneCloud.