OneCloud: Call Center Reporting - Stats Grid

Note:

This guide is intended for Call Center Supervisors, Office Managers, and Resellers. Basic users will not be able to view the stats grid.

Access the Stats Grid directly from the
OneCloud Portal homepage
, click the
Call Center
icon from the top of the page.

Stats Grid


This is a color-coded system that shows the following information:
Green

= value accepted.

Yellow

= value is within the range of your lower threshold.

Red

= value meets or exceeds your upper threshold.

White

= no thresholds are configured for the statistic.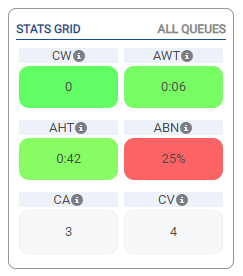 To edit the Stats Grid:
Click the Settings button above the stats grid. The Call Center Settings page appears, with the Stats Grid tab displayed.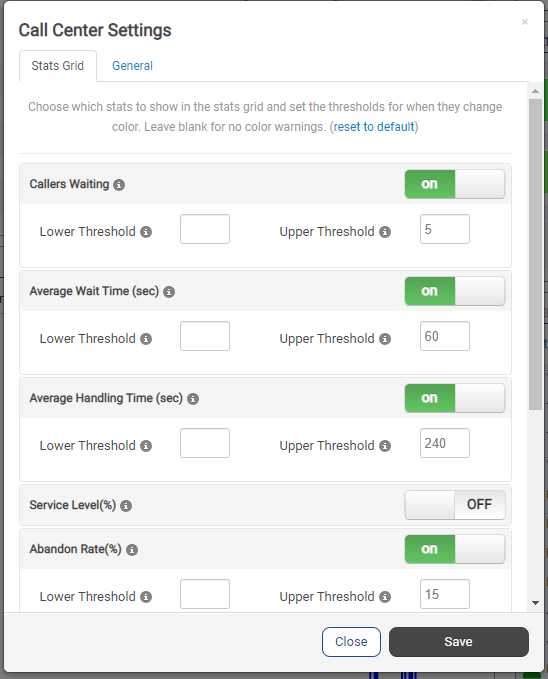 1. Configure the Lower and Upper Thresholds for the statistics you want to show on the stats grid.
2. Click the General tab.



3. Use the Service Level Agreement slider to specify a value that will be used to calculate the Service Level Percentage statistic. This value determines whether a call was answered in an acceptable amount of time (seconds).
4. Use Filter Stats Grid by Queue to determine whether the stats grid is shown for all call queues or one specific call queue.
5. Click Save.


For more information on contact center stats, visit the OneCloud Email Reports Guide and Analytics Guide.

Related Articles

OneCloud: Analytics Wallboard Guide

Welcome to the call center analytics user guide. This article has been designed to help familiarize you with the basic layout, as well as guide you through creating an analytics board and some advanced features. Accessing the Analytics Board Note: To ...

OneCloud: Call Center Reporting - Reports

The OneCloud portal can generate custom reports about call queues. These reports provide a graphical overview of call center statistics over a given period of time. The reports can cover the entire call center, queues, or individual agents. This ...

OneCloud: Enhanced Reporting

Enhanced Reporting is an add-on module to any OneCloud system to gain instant access to many different reports. Enhanced Reporting has many reports built-in that can be rerun on demand or that can be scheduled to send out automatically via email. In ...

OneCloud: Call Center Reporting - Email Reports

Introduced in v39, call center report emails to give call center supervisors or office managers (with call center functionality enabled) the ability to request emails in a variety of formats and time windows. The emails themselves are brandable and ...

OneCloud: Webphone Call Center User Guide

Home Screen Buttons CALL CENTER | Click on the Headset icon to see Call Center options. This is the default start tab for your OneCloud WebPhone. CONTACTS | Click the Contact Card to view your Contacts. VOICEMAIL | Click the Cassette Tape to view ...